AND WELCOME to Barton Road Community Centre website. Our centre is at the heart of the community in South Lancaster, offering a range of activities and services to local people
COVID-19 RESPONSE
All groups at Barton Road Centre are currently suspended.  
We are still here though!  The centre remains open for phone calls and email.  We are working with our centre volunteers to co-ordinate a network of support for anyone who is ill or self-isolating.  
Soon, you  should receive a flyer with the centre contact details and information of how you can contact us.  We do not want you to feel alone.
Can you help? 
In South Lancaster, we have a large number of older people who are not necessarily connected via the internet and so we need to find ways to keep our communication networks open across the community so everyone feels connected and safe.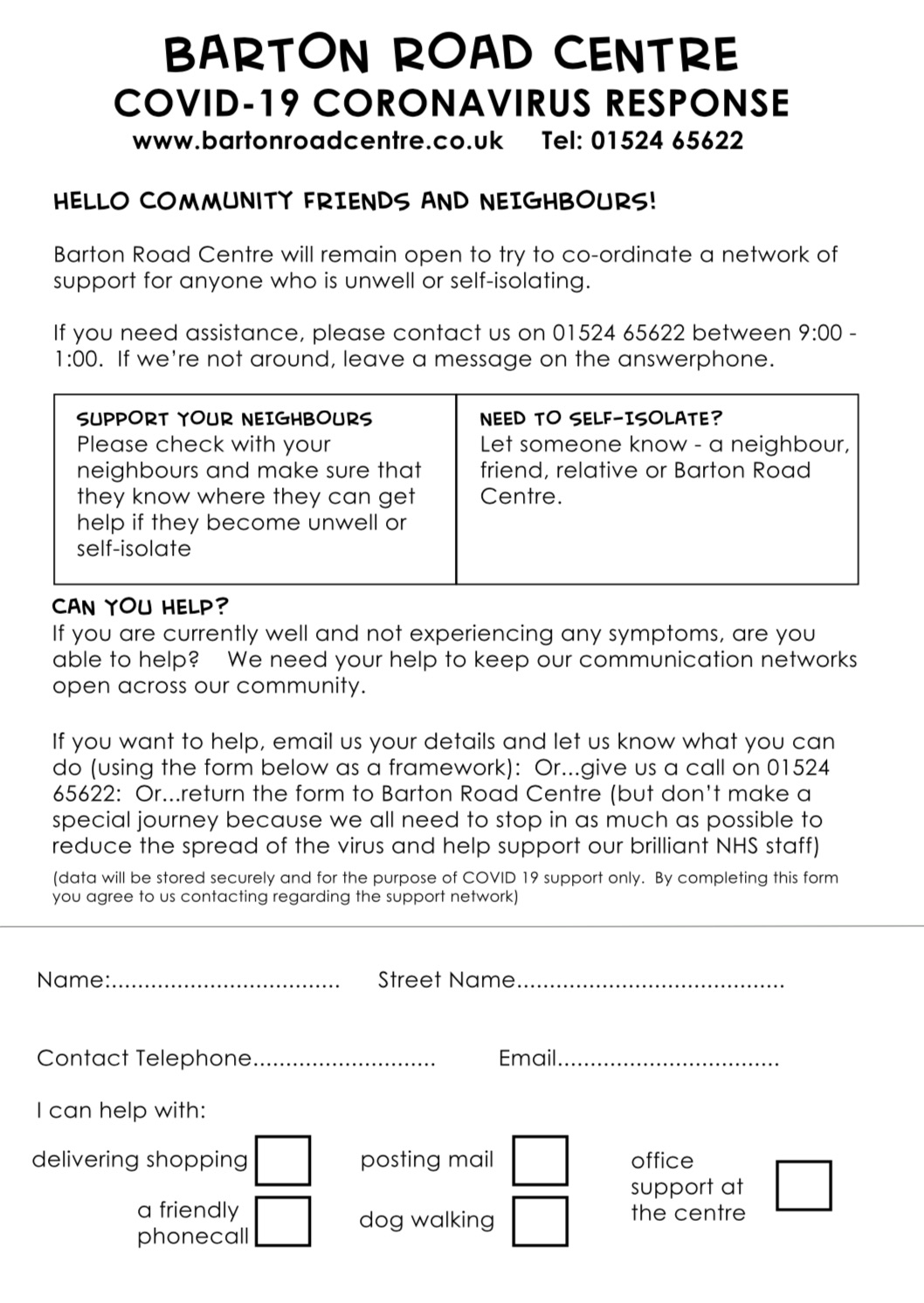 Help us all to keep connected and keep supporting each other
If you would like to help us all keep connected, please email us or give us a call on 01524 65622, giving us the following information:
What's your name?

What's your street? (so we can buddy you up with people nearby)

What's your contact number?

What's your email address?

How can you help the community?  Delivering shopping? Posting mail? Dog walking? A friendly phonecall?  Support in the Barton Road Centre office?
We'll then add you to the COVID-19 database so that we can call on you for help as needs arise.  Even if you are having to isolate, you can still help - be a friendly phone caller - there's something for all of us.
WHAT'S ON - EVENTS MARCH 2020?
All Barton Road Centre events for March are now cancelled.
HISTORY TALK
Monday 9th March at 7:30pm
SINGING THE NEWS
£5.00
Tea and biscuits will be served at the end to allow time for a good old natter and possibly a sing!
Call 01524 65622 to reserve your ticket.
POLICE AND COMMUNITIES TOGETHER
Wednesday 11th March 7:00 - 8:00pm 
If you have any community issues or concerns, come and discuss them with our local PCSO David Owen and councillors .
BARTON ROAD CHOIR
If it's your New Year's Resolution to get singing in a choir, come and join us at Barton Road Choir!
Friday 13th and Friday 27th March.
BARTON ROAD CHOIR
Don't worry - there are no auditions.  The sessions are relaxed and friendly.  We sing popular songs that you will probably know and which we encourage our audience to join in with when we go off on tour!  
Each session is £3.00.  It's good for your heart, lungs and soul 🙂 
MEMORY MAKERS DEMENTIA CRAFT COURSE
MEMORY MAKERS is a ten week arts and crafts course for people living with dementia and their carers.  It's funded by the Big Lottery Fund.
The group meets every Thursday afternoon from 2:30 - 4:00pm.  We only work with cohorts of uptown six people so there's plenty of time for chat, to make friends and try new crafts.
PLACES STILL AVAILABLE FOR THIS TERM!!
This term has already started but there are places available and you can join any time.  If you would like to come along, call Denise at the centre on 01524 65622 - she'll tell you more about the course and get you signed up!