We need your help.   Show your financial support to our lovely Barton Road Centre so that we can continue to help people in our community. Thanks!
AND WELCOME to Barton Road Community Centre website. Our centre is at the heart of the community in South Lancaster, offering a range of activities and services to local people
COVID-19 RESPONSE
All groups at Barton Road Centre are currently suspended.  
We are still here though!  The centre remains open for phone calls and email.  We are working with our centre volunteers to co-ordinate a network of support for anyone who is ill or self-isolating.  
Can you help? 
In South Lancaster, we have a large number of older people who are not necessarily connected via the internet and so we need to find ways to keep our communication networks open across the community so everyone feels connected and safe.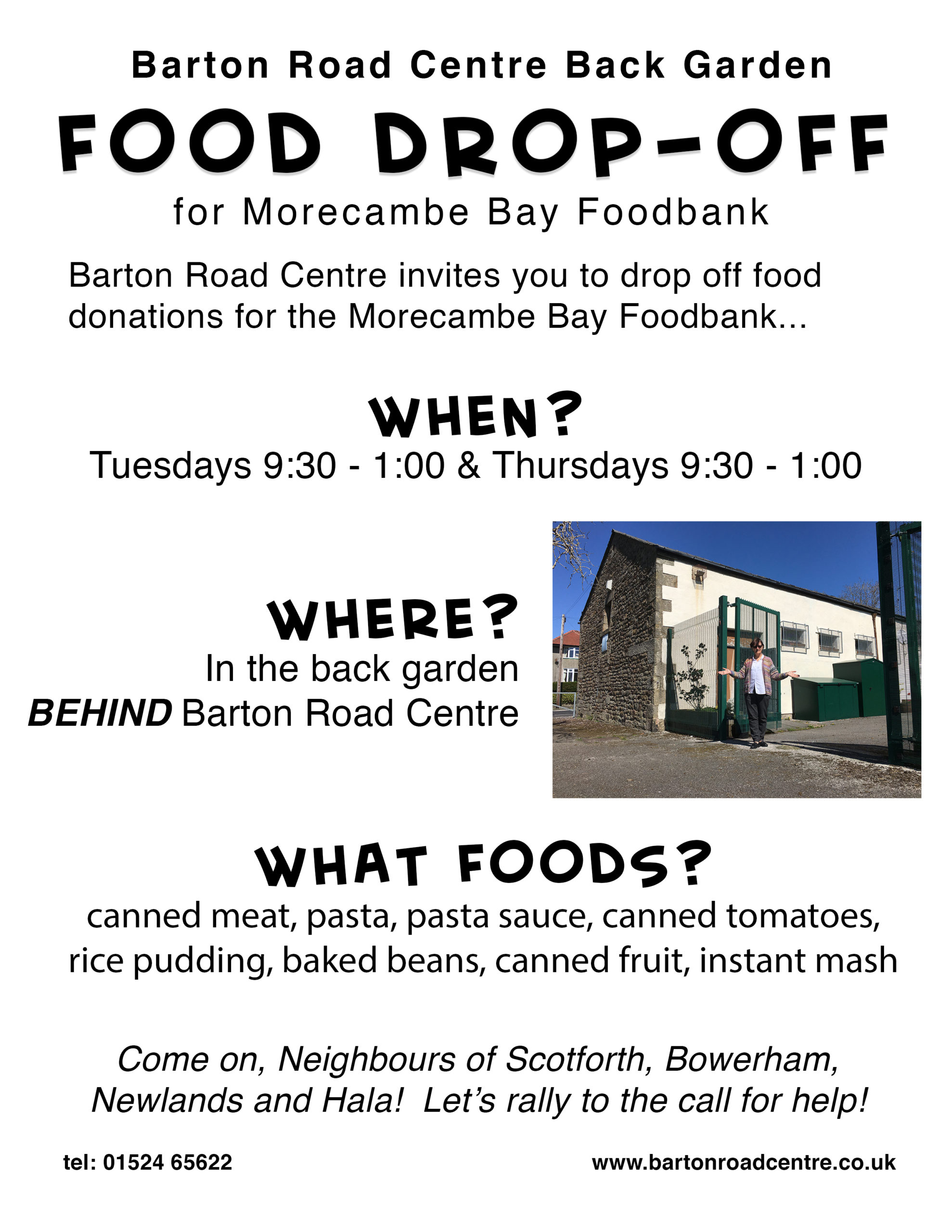 The Toucan Project - Food Donation One Street at a Time
You've heard of pyramid selling?  Well at Barton Road Centre, our Toucan Project is all about pyramid giving.  
It's catching on street-by-street across South Lancaster.  Watch our Toucan Information Film film to find out how you can get involved.  And join the Toucan flock!  
Help us all to keep connected and keep supporting each other
If you would like to help us all keep connected, please email us or give us a call on 01524 65622, giving us the following information:
What's your name?

What's your street? (so we can buddy you up with people nearby)

What's your contact number?

What's your email address?

How can you help the community?  Delivering shopping? Posting mail? Dog walking? A friendly phonecall?  Support in the Barton Road Centre office?
We'll then add you to the COVID-19 database so that we can call on you for help as needs arise.  Even if you are having to isolate, you can still help - be a friendly phone caller - there's something for all of us.
DONATE NOW TO BARTON ROAD CENTRE!
Give By Text:
You can give quickly and easily by text message.  If you already belong to a group at Barton Road Centre it's as easy as paying your weekly sub!
To donate £5 text BARTONROAD 5 to 70085 Texts cost £5 plus one standard rate message
To donate £10 text BARTONROAD 10 to 70085 Texts cost £10 plus one standard rate message
To donate £20 text BARTONROAD 20 to 70085 Texts cost £20 plus one standard rate message
MEMORY MAKERS NOT FORGOTTEN DURING LOCKDOWN
A group which supports people with memory related conditions in Lancaster has not been forgotten during lockdown.
Memory Makers has met at Barton Road Centre since 2018 but the weekly sessions came to an abrupt end when COVID-19 forced the building to close in March.
The sessions focused on visual and tactile activities although the social aspect of the group was just as important not only to those with memory problems but also to the carers who accompanied them.
In an effort to keep in contact with the current group, Keeley Wilkinson, who runs Memory Makers with the help of volunteers, has been phoning members and their carers every week. 
"The main thing I've been providing is emotional support as I've found that it's very important for carers in particular to talk to someone who isn't family," Keeley said.
"Memory Makers had provided some respite for the carers, a time when they could switch off, but this hasn't been possible during lockdown. They are really missing the group and the situation was especially enhanced when they couldn't go out at all."
As well as lending a sympathetic ear during her weekly calls, Keeley has been signposting Memory Makers members to other support if required and reminding them of services such as shopping and dog walking being offered during lockdown by Barton Road Centre volunteers. 
Remembering about social distancing can be a challenge for people with memory difficulties so no date has yet been set for when the group might be able to meet again at Barton Road.
Memory Makers was originally supported by the Ian Galbraith Trust and now has National Lottery funding.
Anyone interested in learning more about Memory Makers, should ring Barton Road Centre on 01524 65622 for more information.