Dog First Aid – Saturday 22nd October, 10 – 1pm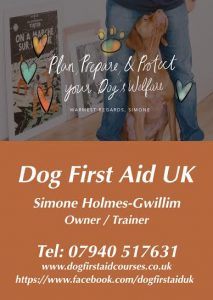 Our furry friends can be very curious and unfortunately, accidents do happen.  So as it's important to provide food, attention and toys, it is also important to be able to help your pet in an emergency situation.
This pet first aid course prepares you to take quick and confident action in an emergency and focusses on the most common pet-related accidents.
For more information, or to book your place on the First Aid course, check out
http://www.dogfirstaidcourses.co.uk/
or call Simone on 07940 517631