---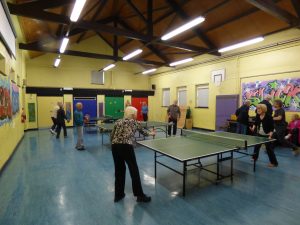 Lancaster and Morecambe U3A Table Tennis
The group is open to all U3A members.
It meets on:
Tuesdays 1 – 3pm
Wednesdays 12 – 2pm and 2 – 4pm
Cost: £1.50 per person
The group has been running for ten years and started with one session a week and one table.  It now runs three sessions a week, with three tables.
The age range is 60 to 80+ with a range of abilities from beginners to club players.  The sessions are very enjoyable with both fun and serious games played.  But don't be put off by the mention of serious games – the members certainly do a lot of laughing, shouting and cheering.  If you want to play table tennis, join the U3A and get yourself down to the centre.
For more information contact:
John Brownhill on 01524 418946