---
Come and join us and make some noise!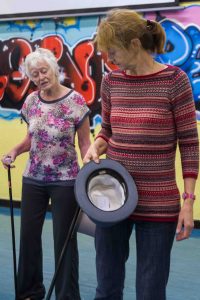 Whether you've tap danced before, or always wanted to try it, come and have a go.  With the emphasis on making lots of noisy rhythms with our feet, you can't fail to enjoy a good old clatter of tap shoes.  Tap dancing is brilliant exercise.  We dance to great music, a bit of jazz, a bit of pop, those Broadway melodies that everyone knows – something to suit everyone.
At the moment we're dancing to 'Run Around Sue'.  It's a bit jivey, a bit rock n rolly, and everyone loves it.  Sometimes we get out the top hats and canes, and imagine we are Fred and Ginger.
People all over the world tap dance for fun, fitness and development.  Tap dancing energises, it gets the heart pumping, gives you that feel good factor and anyone can do it.  If you're a bit wobbly on your feet, you can even do it sitting down.  So come and get fit while trying out a variety of steps.  We can turn even the most basic steps into great routines so that you feel like a Broadway star right from your first class.
Beginners 10-11am,
Improvers 11-12noon.
Book now for 8 weeks, £32.
If you've not done it before and want to try it out without having to buy tap shoes – we have a bag full of all sizes.
Ring Denise on 01524 65622 to book your place